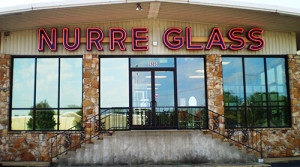 For over 50 years Nurre has been family owned in the heart of Memphis. Nurre Glass Company has provided the Memphis area with solutions for all of your residential and commercial glass needs. Along with customer satsifaction. Nurre has the experience that you deserve and can trust to deliver all your requirements.
Premium Door and Window Glass
We provide fast, convenient and punctual glass replacement services in the Memphis, TN area. We pride ourselves on offering very competitive pricing and the highest level of quality. Our easy scheduling and repair service brings repair services to you, at home or at the office. Just call us today to make an appointment, and you will see why we are the number one specialists.
In addition to these services, we also provide the highest quality glass shower doors, custom made mirrors and window glass to our residential customers. We are ready and willing to meet your home improvement needs with our quality mirror sales and shower doors. Enhance the beauty of your home with our quality glass products. Our knowledgeable staff members are prepared to help you find the glass you are looking for. Call Nurre Glass Company today to get started!